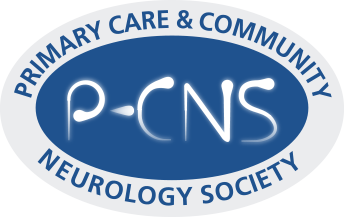 Welcome to the latest news bulletin from the P-CNS

Connecting Primary Care to Community Neurology Services – A New Vision for the P-CNS
Supporting the education of primary care professionals in neurology has been a key objective of the P-CNS since 2004, when it was established. Along with this key objective the Society is keen to identify and support initiatives that strengthen connections between primary care and the neurology community, with the ultimate aim of improving access to more community-based neurology services for patients.
Given an increasing desire for more community-based neurology services, the P-CNS is delighted to announce a change of name, which was launched at this week's Best Practice Show. As of now the P-CNS stands for the Primary care and Community Neurology Society and to reflect this change, we are pleased to announce some new additions to the P-CNS Steering Committee, which include Julie Riley, Divisional Director Neurology at The Walton Centre NHS Foundation Trust, Jakko Brouwers, Chair of ACPIN and Prof Hedley Emsley, Consultant Neurologist.

Presenting to a packed theatre at the Best Practice Show, our Chair, Dr Nassif Mansour said, "We would like to encourage GPs in their localities to work to develop more community based provision, collaborating with CCGs and local secondary and tertiary providers to drive up the standard of neurology care in the community."
To celebrate our change of name we have updated our logo and launched a new website, which you will still find at www.p-cns.org.uk. Over the coming weeks and months, new content will be added to the website. Also, look out for our next issue of Neurodigest, which includes a new, expanded news section, offering summaries of various neurology news and views from the neurology community published throughout 2018.
London: United Kingdom Acquired Brain Injury Forum (UKABIF) Conference
Monday 5th November 2018 | Royal Society of Medicine, 1 Wimpole Street, London W1G 0AE
Neurorehabilitation is the key topic at this year's United Kingdom Acquired Brain Injury Forum (UKABIF) conference. The day-long event will include a seminar looking at the ways in which poor support following brain injury in children can lead to criminalisation, and an examination of the interplay between acquired brain injury and domestic violence among inmates at a women's prison.
To find out more and book tickets, visit the UKABIF website here.
London: The Hawking Annual MND Lecture 2018
17:30 | Wednesday 21st November 2018 | Royal College of Nursing, 20 Cavendish Square, Marylebone, London W1G 0RN
This free lecture led by Eneida Mioshi will focus on cognitive change associated with motor neurone disease. Around 35% of people with MND report mildly altered thinking and behaviour, and there is evidence to suggest that a further 15% develop frontotemporal dementia as a result of having MND.
There will be a Q&A and networking session afterwards. To reserve your place, click here.
Birmingham: TOMS CONNECT –  Making Sense of the Data (last chance for early bird discount)
09:00-17:00 | Tuesday 27th November 2018 | Council House, Victoria Square, Birmingham B1 1BB
Delegates will gather in Birmingham in late November to engage with speakers who are experts on data presentation and analysis and who have experience in presenting Therapy Outcome Measures (TOMs) data. The TOMs CONNECT conference will also look at recent changes affecting commissioning and provision and provide guidance on how data can be used to evidence best practice pathways and inform service reconfiguration.
Our early-registration reduced ticket rate of £135 is available until 12pm tomorrow. More details are available here. For any further queries, email linda@innervate.co.uk or cal 0203 479 5111.
London: Encephalitis Conference
09:00-18:00 | Monday 3rd December 2018 | Macfarlanes LLP London, 20 Cursitor Street, London, EC4A 1LT
The Encephalitis Conference is the only event in the world dedicated exclusively to encephalitis and brings together professionals with various expertise and knowledge, ranging from epidemiology, pathogenesis, diagnosis and treatment to recovery and rehabilitation of people affected by encephalitis. For more information and to book your free place please click here.
Telford: UK Stroke Forum (UKSF) Conference 2018
Tuesday 4th-Thursday 6th December 2018 | The International Centre, St Quentin Gate, Telford TF3 4JH
Get up to speed on the latest stroke research and innovations at this year's UK Stroke Forum Conference. The three-day event will host 110 expert speakers, 60 exhibitor stands and 20 main conference sessions across three days, as well as the opportunity to submit abstracts for presentation at the event.
Conference registration is open until 19th November – register on the UK Stroke Forum website.
London: RCGP One Day Essential – Neurology (early bird tickets still available)
09:00-17:00 Friday 25th January 2019 | 30 Euston Square, London, England NW1 2FB
The P-CNS is running a One Day Essential event on Neurology in collaboration with the RCGP. Throughout the day, speakers will provide practical solutions to identification diagnosis and management of neurological conditions which you can start using straight away in your clinical practice.
Early bird tickets are available until 26th October and give a 15% discount. Visit the event page for more information or to sign up.
e-brain – a leading provider of independent online learning in neurosciences
e-brain represents the largest, most comprehensive web-based training multimedia facility in clinical neurosciences to support both training and Continuous Professional Development for those working in relevant fields. Features include:
CPD points – you can claim up to 9 external points per year
650+ interactive elearning sessions covering topics such as headaches and epilepsy
Question bank of MCQ questions with over 2500 MCQs
Virtual patients which you can both manage and mismanage quite safely!
Webinars
Access to e-brain is free once you join the P-CNS for £45. For further details and how to get access click here.
A full list of external events, including the MIMs 'Learning Live' events, can be found on the P-CNS website.