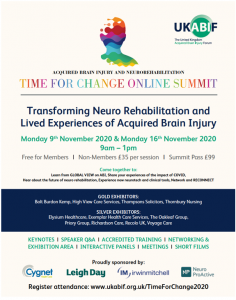 The Summit provides a GLOBAL VIEW on ABI, allowing SHARED EXPERIENCES of the impact of COVID19.  It will discuss the FUTURE of NEURO REHABILITATION and the POLICIES and approaches shaping delivery in the UK.  It will demonstrate the latest NEUROTECH and CLINICAL TOOLS.  This year's summit is a chance to network and reconnect to plan and deliver beyond 2020.
This conference will appeal to Allied Health Professionals with backgrounds in psychology, physiotherapy, occupational therapy, speech and language therapy from the NHS as well as private providers. It is relevant to; Medical practitioners including neurologists, neuropsychiatrists and consultants in rehabilitation medicine, Nursing staff including specialist brain injury nurses, Legal professionals including specialists in brain injury and clinical negligence, Case Managers, Specialist Care providers, Voluntary Organisations working in the brain injury field, Social Workers and social care professionals, Commissioners and other NHSE and local authority care managers.
For more information to book please click here.