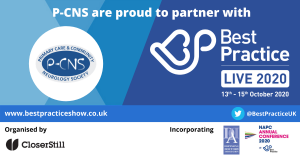 Best Practice Live
13th-15th October 2020
Virtual Event
The organisers of the Best Practice Show are proud to present, Best Practice Live, a new virtual conference and exhibition, taking place in the afternoons of the 13th, 14th and 15thOctober 2020.
Incorporating the DDA Annual Conference, the NAPC Annual Conference, Best Practice in Nursing and the Respiratory Show. Best Practice Live is free for healthcare professionals and will welcome over 1,500 your general practice and primary care peers, for over 60 hours of educational presentations (including a presentation from P-CNS's Dr Alistair Church), workshops and panel discussions.
Just some of the many confirmed expert speakers include:
Baroness Dido Harding, Chief Executive, National Institute for Health Protection (NIHP)
Minal Bakhai, Deputy Director and National Clinical Lead for Digital Primary Care, NHSX
Andrew Menzies-Gow, National Clinical Director for Respiratory Services, NHS England & Improvement
Steve Holmes, GP, Park Medical Partnership
Minesh Patel, Chair, NAPC
Ben Burgess, Board Member and Partner, DDA
Tracey Dell, Practice Business Manager, LMC Trainer, PMA Consultant
Richard Vautrey, Chair, British Medical Association's General Practitioners Committee
In an era where large face-to-face events have been postponed, webinars and virtual event platforms are now the driving force for networking and developing your skills.
Whether you are a GP, a Practice Nurse or Pharmacist, looking for the most up to date clinical content, or a business manager looking to find out the latest developments in primary care, you can pick and choose sessions throughout the three afternoons at Best Practice Live – a FREE must attend event this October!
Register online here